Estero Shower & Glass specializes in frameless glass wine rooms or glass wine cellars in Bonita Springs, Naples, Fort Myers, and all of Southwest Florida. Glass wine rooms are becoming very popular and trendy in SWFL lately. It is a nice way to store and display wine without a separate room that closes off a part of your home. There are several ways you can do your new wine room and we are here to help.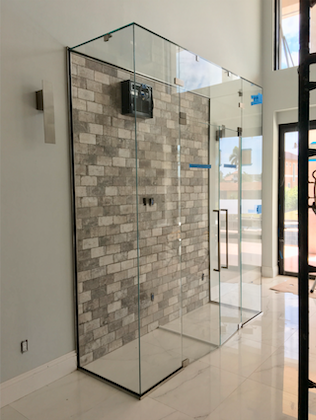 Cooling & Humidity
If you are simply looking to display a handful of wine bottles this section may not apply to you, but if you are truly trying to preserve quality wine than this is important. The temperature and the humidity in the room matters in the preservation of the wine, the cork, and the bottle itself. The temperature in your glass wine room or glass wine cellar should be around 55 degrees. Go too low and one risks drying out the air too much. Be careful to not let the temperature fluctuate too much either. In the link above, Sylvane talks all about the storage and preservation of wine in a room.
If the humidity is too low, you risk the cork cracking and drying out. If the humidity is to high you risk mold growing which can damage the label and is highly unhealthy to say the least. Humidity should be around 60-65% and the room should also have some minor ventilation to keep clean air moving through. Some of our customers want the wine room air tight, but this can be problematic for the room.