Mirror
Are you in the market for a mirror product? Estero Shower and Glass can help. We are experts in mirrored products. Mirror has a unique ability to make a room feel larger. We often have customers that install mirror as an inexpensive way to add square footage to a room or bathroom. There are all kinds application that customers use mirror for. Vanity mirrors are, of course, the most commonly used application. Commonly sought after uses are also full length dressing mirrors in closets, and mirrors in the back of china cabinets. What ever you are considering mirror for, let us give you a free quote and advise you the best we can on the project.
Most Popular Mirror Projects
♦ Vanity Mirrors
♦ Beveled Mirrors
♦ Beveled Mirrored Strips
♦ Mirrored Closet Doors
♦ Dressing Mirrors
♦ Transparent (2 way) Mirrors
Beveled mirrored strips are always a great and cost effective update that can add much value and style to a bathroom. If you don't now what beveled mirrored strips are, look at the picture below. The mirror itself was never removed, or changed. We simply adhere long strips or mirror that has been beveled on the edges of a mirror.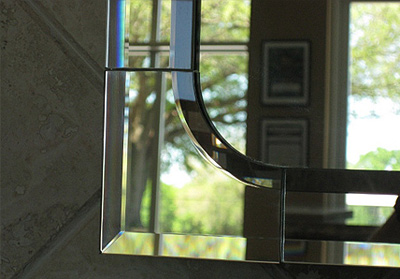 When considering mirrors, one thing to keep in mind is lighting. Good lighting can make or break nice mirror and glass products. In many applications, holes are drilled in the middle of vanity mirrors to run wire through to hook up lights. Lighting really helps make a mirror shine. If you are in need of a licensed electrician we can make a recommendation.
Is this a window or a mirror?
For more information on this new product visit Kent Optronics
Free Estimate
Estero Shower and Glass offers free quotes to our customers. If you would like, we can set up a time to have one of our mirror experts come measure and price out a project you have. We serve Naples Bonita Springs, Fort Myers, and Estero. Click here to contact us, or give us a call at 239-390-2988-. Thank you, and we look forward to serving you.