Having a hard time cleaning foggy glass? With 20 years experience cleaning glass working as a professional glazier, I have picked up a few tricks. Whether you are trying to clean sliding glass doors, shower glass, or a coffee table, there are some things to consider and keep in mind.
When I refer to cleaning foggy glass, I am referring to the calcification type residue that builds up on the outer surface over time (build up on the inside of a double pane window is impossible to clean and needs to be replaced). This happens on almost every shower door, but it can also happen on an outdoor glass railing or a sliding glass door (doorwall or patio door depending on what part of the country you are from). It can even happen on a coffee table. Over time, water stains embed itself into the glass.
Top 5 Reasons Glass Becomes Foggy
Hard Water in your home
Bar soap
Water sitting on glass repeatedly for long periods of time (Water in a shower or water condensation on the bottom of a exterior door)
Sprinkler that sprays water onto glass
Condensation on the inside of a double pane window (cannot be cleaned and needs to be replaced)
3 Way to Prevent Foggy Glass
Squeegee your shower glass every time you shower.
Avoid Bar soap and try using a clear liquid soap
Apply a coating on glass like EnduroShield or Rain-X
Tempered safety glass scratches easier than non-tempered glass.
Pro Tip #1: Using a razor blade, coarse steel wool, or a putty knife on your glass may cause significant scratches to your glass. Be careful. (Tempered glass will have a logo in the corner, most likely on the bottom of the glass. All doors, glass next to doors, glass within 18″ from the floor, is most likely tempered. It is the law, so it should be tempered to meet code. If the glass in your house in very old, it may not be tempered. I think the laws started changing to require safety glass some time in the 70's.)
Fine Steel Wool and Razor Blades
Pro Tip #2: The best items to use are fine steel wool and razor blades. Razor blades get dull quickly. Make sure you buy at least one for every square foot you plan to clean. The good news is you can buy them for about a dime a piece. Steel wool is very good and probably works the best to get the most difficult stains removed.
Water and Bio Clean
Pro Tip #3: Some solutions may aid in the process. If you are using a razor blade, make sure you use water on the glass when scraping to minimize scratches. Bio Clean you can buy online and helps when you are using steel wool or a scrubber tool of some kind.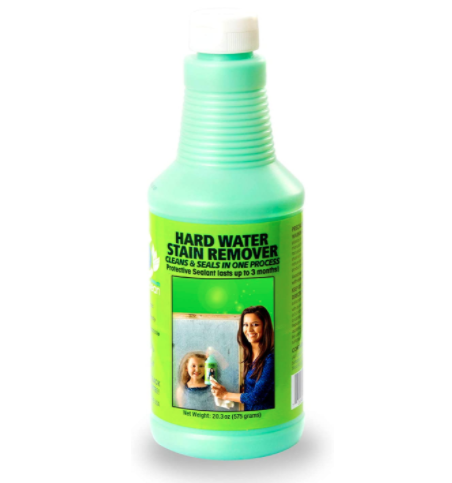 Here is another article from Hunker that may offer some more good tips and helpful information.