Insulated Glass Replacement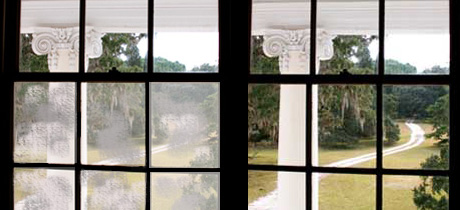 Insulated glass replacement is one of the services we offer at Estero Shower Glass & Window. In most cases, your whole window does not need to be replaced, just the glass. Insulated glass is one of the greatest developments in window technology, made more common in the last 40 years. They have essentially replaced storm windows, but have the same purpose and work far more effectively. Insulated glass was invented to have two pieces of glass in one unit (see diagram below). These windows stop up to 70% in heat loss and heat gain, cutting your energy bill significantly. The only problem with these windows is that they have a shelf life of about 10-20 years. They will eventually fog up and that's where we come in.
Out Process
We start buy coming out to your house to look at your fogged or broken windows. We check for five things.
• Take glass measurements
• Check color (Clear, Grey, Bronze, Low-e)
• Check for mutton bars
• Assess the removal process
• See if window is accessible from ground or if ladders will be needed.
Most insulated glass replacement is similar. You have an insulated glass unit, glued in a frame, with plastic or metal stops on the outside. These stops essentially hold the window in if for some reason the glue were to fail. Sometimes the window is not glued in, but wrapped. This is where the window has a frame wrapped around it. It is replaced by removing the window (or Sash) and unscrewing the frame.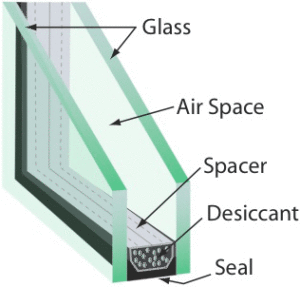 Once we have assessed your windows, we check for pricing and write you up a proposal. Make sure to ask about lead time for installation. Lead time may be longer based in the time of the year.
To learn more about Insulated Glass Replacement, check out these tips below or contact Estero Shower Glass & Window. We serve Fort Myers, Naples, Bonita Springs, and Estero. We look forward to serving you.
Insulated Glass Replacement Tips
♦ You do not have to replace the whole window including frame. You can simply fix the window by replacing only the glass.
♦ If you have one fogged insulated window, you may have more. It will save you money to have multiple units replaced at once rather than one at a time. Chances are your windows were all installed around the same time. There is a good chance the windows seals could start to fail around the same time. If you are thinking of replacing one, have a professional check the other windows in your house to see if other seals are broken.
♦ Some insulated glass will last longer based on climate, exposure to sun, and type of frame.
♦ Adding a film or tint to the windows after they have been installed will shorten the life of the insulated glass unit significantly and void your warranty.