Windows
The Windows industry has completely changed in Florida in the last 15 years. After Hurricane Charley and Wilma came through Southwest Florida the desire for stronger products became more prevalent. When you decide to install new windows in your home, it may be a more regulated process then one might expect. In most cases if you replace the windows in your home, you are required to replace them with hurricane impact products. Unless you have up-to-code hurricane shutters installed. There are differences between Impact Windows and Non-Impact Windows. If you would like to know more details about each specific style, click the links above.
What To Consider When Buying Windows
◊ If you plan to replace even one window or sliding glass door in a condo in Florida, code requires it to be an impact product.
◊ In a single family home, you are allowed by code to replace up to 25% of your home's windows with non-impact products in any given year.
◊ Sliding Glass Doors are generally more expensive to replace than windows.
◊ Permits are required when replacing the windows and sliding glass doors in homes and condos.
◊ Impact Windows have many benefits. In most cases you can receive a decrease in your homeowners insurance once your windows are replaced. You receive 24-7 safety from natural disasters, significant noise reduction, protection against intruders, and over 95% blockage of UV rays.
I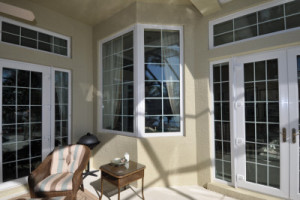 f you are interested in taking the next step towards replacing the windows in your home, consider giving us a call or emailing us to set up a free estimate at your home. We will be able to give you more clear direction and answers regarding the windows in your home. We look forward to meeting you and being your trusted Southwest Florida glass company. Estero Shower Glass & Window serves Naples, Fort Myers, Bonita Springs, Estero, and all of Lee and Collier County.